Membership IS Affordable
Register your business for Membership with the Chamber online or by mail, with our low cost remaining at $150 for 2021. Additional advertising opportunities in print and online are available, as is attending our Annual General Meeting Dinner. Included in the cost of Membership are our Networking Events, Online Membership Profile and Print Directory Listing.
Renewals, and new memberships will be $150+HST for 2021.
---
Everyone Welcome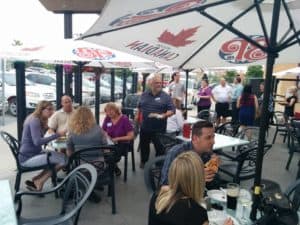 You can become part of a fantastic referral network when choosing to join the Chamber. Our members represent every industry, ranging from small single-proprietors to the largest Corporations, all doing business right here in Clarington and surrounding areas.
Our Networking events are a great success and new connections are made to support each other and help each other to reach new business goals. Our Board of Directors always welcomes contributions from our Members, giving us some feedback on how to make our Chamber even better in the future. Working together we make our community stronger, so join us!
---
Membership Benefit Programs
The Chamber offers Participation in various Membership Benefit Programs:
• First Data Canada – Merchant payment processing program with discounted rates
• Chambers of Commerce Group Insurance Plan® – Accessible and flexible options to protect your employees with comprehensive group benefits including dental and health insurance
• Esso – Fuel discounts offered to the company and its employees
• Johnson Inc. – Home, Auto and Travel Insurance
• Competitactics – Mystery Shopper Program
• Chamber E-Learning Centre – SME-oriented onloine training courses offered
• First Call – Human Resources services, your Hotline to HR
• Quantum RBS Inc. – Cloud backup and recovery program
• UPS Savings Program – Discounts of 30% on shipments within Canada and to worldwide destination, 25% on imports into Canada and 75% (starting at) on freight shipment services
• ICC Publications – 10% discount
Your Membership includes access to the Canadian Chamber of Commerce
---
Seminars & Training
SPEAK TO GROW YOUR BUSINESS
With technology and consumer preferences changing the way we do our work and our customers find us, our Chamber is always interested in providing any extra knowledge and support needed to succeed doing business in our area. We can arrange speaking opportunities in the form of Seminars to our membership if you have a product or service that will benefit other Members.
If you are a professional in your industry in such fields as tax, legal, accounting, marketing, social media or advertising and have some great knowledge to share, let us know. Build trust and credibility with your audience and help others grow their businesses as Chamber Members. Contact us to discuss what you can bring to the Chamber Seminar Series.
---
Member to Member Discounts and Offers
Our Members will offer discounts and special promos to other Newcastle Chamber Members, head over to our Member Directory to find some great Member discounts.
---