We are changing our look, let's change yours!
Businesses experiencing growth means keeping up with the times. We've gone through many changes over the years, and it's time to change again. Just like your home, styles get outdated and a fresh, new look gives us a renewed enthusiasm about our surroundings. We love to make your home an inviting space to create beautiful, new memories with family and friends.
So let me introduce to you our New Logo, New Van, and New Hours!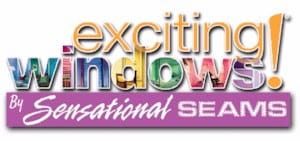 1. As for the New Logo … I started sewing in grade 9 Home Economics class at Bowmanville High School with Mrs Mitchalejko. She quickly recognized that I had a talent, and gave me advice on how to sew my sister's wedding dress two years later. That lead to many more wedding dresses and bridal work, developing my skills with great attention to detail. When Jamie and I purchased our first home, I thought "how difficult can it be to sew curtains…after all… the window doesn't gain or lose weight" which started my passion for drapery. That quickly lead to bedding, upholstery and interior decorating. Our original logo was designed at the start of our business in 1986, not sure where my sewing career would take me so Jamie and I carefully selected a name with the word "Seams" in it, and something that would reflect unique, stunning, outstanding – "Sensational".
In 2011, I was sought out by Exciting Windows! to be affiliated with the most amazing group of businesses nation-wide, bring a National Service with Personal Attention, and Unbeatable 4-way Guarantee. Our logos were combined portraying that Sensational SEAMS meant exciting window treatments.
After a few suggestions to update our logo, our daughter, Kasia came up with a fresh, new design. With the "SEAMS" remaining constant, the "Sensational" logo incorporates the drapery and window treatment, showing a rod with a touch of sophisticated class and "bling" on the crystal end, and keeping with my favorite colour trademark – purple!
2. So how long can a vehicle last? 5 years, 10 years, 15 years – that's pushing it? Well, with a few CAA tows and a good personal mechanic (Jamie), how about over 17 years? YUP, that's right, after 421,000 kms, and thousands of window treatment consultations & installations, I'm finally retiring the 2000 GM Express Purple Van that EVERYONE comments on and sees (you can't miss it).
So from our Grey van at our Church Street location, to the Purple van, it's finally time to get another vehicle.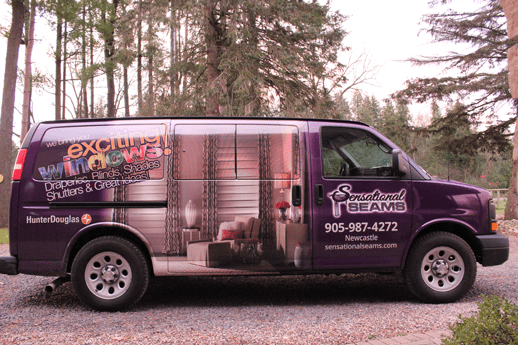 We come to you! The van is packed full with drapery, upholstery and blind samples ready to come to your location. We have updated the purple van colour, and are proud to feature HunterDouglas, known as the world leader in Blinds, Shades, Shutters and Intelligent PowerView Shades. We continue to bring you Exciting Windows! service and unbeatable 4-way guarantee. All wrapped up beautifully into our new van!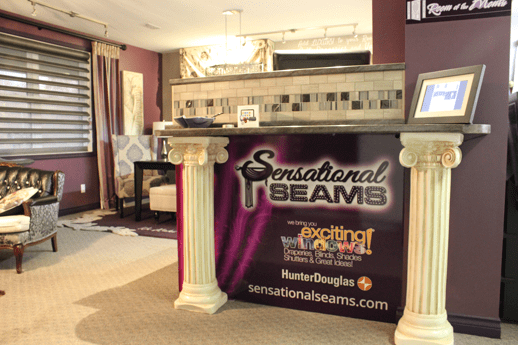 Open by appointment ONLY! We will continue to use our Showroom as our Presentation & Design Centre by appointment ONLY, so be sure to call to set up your personal consultation.
Our Showroom is the ONLY Custom Window Treatment Showroom & Work Studio in Newcastle
where you can come to:
SEE the drapery design ideas and styles
PLAY with the PowerView Remote Control HunterDouglas shades
TOUCH the fabrics and textures
EXPERIENCE the quality and details of our work studio
IMAGINE your furniture reupholstered
CREATE your custom designed area rug.
We've changed our look. Let's change yours!
It's dedicated clients over 31 years that continue to refer us and keep our business growing. We are thankful that God has blessed our business and creativity.
I would love the opportunity to serve you!
Let's change your look too by creating Unique Window Treatments and Sensational Solutions just for you!
If you have ideas for a New House or are planning to enhance your existing house, let Sensational Seams be your local choice for great knowledge, personality, and service to complete your dream home!
Let's Chat: 905-987-4272
Email: [email protected]
Website: www.sensationalseams.com