Newcastle & District Chamber of Commerce December Newsletter


MEMBER NEWS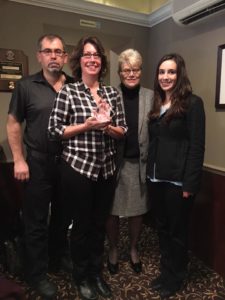 Durham Accessibility Award
Two of our members-The Old Newcastle House Taps & Grill, and Massey House Restaurant were nominated for the Durham Accessibility Award.
Congratulations to Massey House, Gus & Karen Bastas for winning this year's award for making their business wheelchair friendly and accessible to the public.
---
Keller Williams Turkey Drive
Thanks go to Vatandoust Team-Keller Williams for this year's 80 turkey dinner donations to the Clarington East Food Bank. The Durham Real Estate teams fundraised to provide 1800 dinners to needy families.
From their Facebook Page: The Vatandoust Sirrs Team:
"We did it! Thanks to everyone who donated and shared the cause on social media, because of you Keller Williams Energy Real Estate was able to raise enough money to reach our goal!
We will be providing 1800 local families a full turkey dinner with all the trimmings for Christmas!

THANK YOU! THANK YOU! THANK YOU!"
Please consider donations to our local Clarington East Food Bank hamper campaign this holiday season. Non perishable items in high need are canned fruits and vegetables, peanut butter, pork & beans, cookies, juice, and canned pasta. Visit their website for opening hours and where / how to donate money or food and personal care items.
---
NEWCASTLE BIA NEWS
We thank the Newcastle Downtown BIA for organizing the 12th Annual Santa Parade. Without the dedication of volunteers, community events would not be possible.
Looking forward to the Newcastle Canada Day 150 Celebrations in town with a parade on June 25th and July 1st at the Rec. Centre. If you would like to volunteer to help, please contact the BIA www.villageofnewcastle.ca or Karen Bastas at Massey House Restaurant at 905-987-3747.
---
JOINT CHAMBERS OF DURHAM
The Joint Chambers and Boards of Trade from Durham meet together quarterly to discuss concerns of the Region. With the prospect of a new airport north of Pickering, GO Train extension to Bowmanville, 407 progress to Hwy 115, Darlington refurbishment and new housing developments, our community will be positively affected. More detailed information will follow in January. Any questions, please contact Vice President Jane Black who represents you at these meetings.
---
2017 MEMBER DIRECTORY
The new 2017 Newcastle Chamber of Commerce Member Directory will be printed in March. Rates for advertising sizes will be available soon on the website. PLEASE Update your Member Directory information on the website as we will use this for your contact and other business information.
Contact our Tech Director, Brian Rutherford if you need assistance by email at: [email protected]
Many Thanks to Kevin at The Old Newcastle House Taps & Grill for hosting our Christmas Networking Social on Dec.5th.
Greg Lewis, State Farm Insurance won the draw for a FREE website ad.
Merry Christmas! All the best for a prosperous 2017!
The Newcastle & District Chamber of Commerce
---
Upcoming Events
Home Show 2017
Our annual Home Show will be April 29th & 30th at the Newcastle Arena. Consider renting a booth to promote your business and network with the local community. Contact us to reserve your space.
Annual General Meeting 2017
This coming year the Chamber AGM is changed to Thursday, Feb. 23, 2017 at the Newcastle Community Hall. Cost will be $20 pp. The balance of the dinner cost is absorbed by the Chamber.
Contact Us
Please feel free to Contact any Director with any concerns or questions.
Thank you and have a wonderful Holiday Season!